GUANGZHOU TRAVEL GUIDE
An Insider's Guide to Guangzhou
Why go to Guangzhou?
It's a wonder that Guangzhou is not on most travellers 'must do' list as one of the best cities in the world. What Guangzhou lacks in famous sights it more makes up for in authentic culture. Think of it as a living museum of Chinese culture. With outstanding food, shopping and affordable luxury hotels it makes for an enjoyable and relaxing city break in China.
Our Insiders list of things to do in Guangzhou
1. Take an evening stroll along the pearl river.
Guangzhou comes to life at night, with the bridges and buildings being lit up with lights. Join the locals to stretch your legs after dinner with a walk along the pearl river. The promenades on both sides of the river will be busy with walkers, runners, cyclists and Chinese tourists snapping photos. A must do local experience in Guangzhou.
The Chinese have a love for dancing, and there are several parks and squares along the river where you can see the locals out for their evening dancing exercise. It might not be to your taste, but it is definitely something to see. One of the most vibrant dancing areas is near next to the San Yatsen university pier.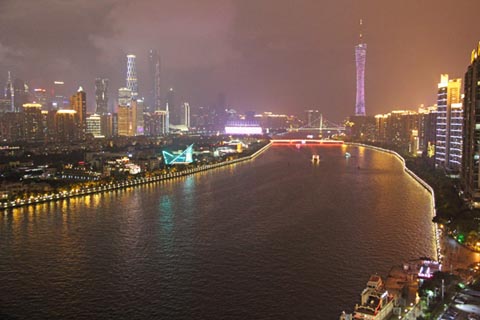 2. Yum Cha
Yum Cha is the quintessential Cantonese eating experience, and is a must do activity in Guangzhou. With high quality and a diverse range of dim sum, it makes for a relaxing morning experience. One of the highlights of Yum Cha in Guangzhou is the opportunity to drink quality chinese tea from a traditional tea set. In the most authentic restaurants there will be a separate section for guests who wish to drink fine tea while they eat their dim sum. You will find a separate tea menu with a range of varieties and prices starting at 6 RMB pp and going up to 20 RMB pp. Check out our blog for a list of the 5 Best Places to Eat Dim Sum in Guangzhou.
HongXing Seafood Restaurant
Address: No. 2 Qiaoguan Road, YueXiu District, Guangzhou
Nearest Metro: Haizhu Square Exit A
Open: 7.30am - 12.30am (Yum Cha 7.30am - 4.30pm)
A traditional Cantonese restaurant located opposite the pearl river and next door to the Landmark Canton Hotel. Go upstairs to the first floor if you would like to drink quality tea (only available until 11.30am), or have standard tea with your Dim Sum on the ground level.. The Dim Sum is very good, served in a pleasant surroundings. Ordering may be a challenge if you don't speak and read Chinese, so take with a friend that can. The fish tanks at the front of the restaurant are amazing and look more like an aquarium. This restaurant has several outlets in Guangzhou, but this is our favourite. HongXing is also a good choice for a Seafood Dinner.
Guangzhou Restaurant (Liwan)
Address: 2 Wen Chang Nan Rd Liwan District
Nearest Metro: Huangsha
Open: 7am - 2.30pm (Yum Cha) & 5.30pm - 9.30pm (Dinner)
The Guangzhou restaurant was Founded in 1935 and has won extensive awards including being in the top 10 restuarants in China 2000. Dine here for traditional Dim Sum or an authentic Cantonese feast for dinner. Specialties include Guangzhou Wen Chang Chicken, Roast pork and Sha Wan Original Milk tart. The Guangzhou restaurant has several branches throughout China, but this is the original.
3. Explore Liwan District
Food, markets and shopping make Liwan an excellent place to experience local Cantonese culture. Located on the northern bank of the pearl river, Liwan is easily accessible by taxi, metro and ferry. Start with a stroll down Shangxiajiu pedestrian street, and then stop for a meal in any of the top quality Cantonese restaurants that Liwan is famous for. Explore the backstreets to find more local restaurants as well as the pets market and plant shops. Then make your way down to the QingPing Chinese herbs market. Finish off your day at Lizhiwan, a short taxi ride away to take in this scenic suburb with shops and a food street set around a picturesque lake.
For Seafood lovers, go and check out Huangsha Wholesale Fish market, claimed to be the largest fresh fish market in southern China. Most of the fish are still swimming in tanks, with a overwhelming range to choose from. Pick a fresh fish and let one of the nearby restaurants steam it for you!
Where to eat in Liwan?
Taotao Ju Restaurant (陶陶居) -
On the Shangxiajiu pedestrian street. One of the oldest restaurants in Guangzhou. Good quality but not the best. Attached bakery is famous for lotus seed paste chinese cakes.
Panxi Restaurant (泮溪酒家) -
151 Longjin West Road (龙津西路151号). With a beautiful garden setting, this restaurant is famous for Dim Sum. Rated national 'super' level, this restaurant has employed some of the top Dim Sum in China.
To really immerse yourself in the food available in Liwan try out our Guangzhou Food Tours .
4. Day Cruise the Pearl River
Ok, so this shouldn't really be called a cruise, but it is very similar to the much more expensive evening dinner cruises only a lot cheaper. Guangzhou has several "ferry bus" lines that can be used to get around the city, and are a fantastic way to take in the Guangzhou skyline. The most useful line for tourists is between Huangsha (Liwan) and Canton Tower. It only costs 2 RMB to hop on the ferry or 5 RMB if you want to sit on the outdoor upper deck. Payment is via an honest system at the pier. The ferrier run roughly every 20 minutes from 7.00am to 6.30pm and it takes approximately 1 hour to go between Liwan and Canton Tower one way. The most interesting stops on this line are Liwan, Beijing Road and Canton Tower.
The stops along this line are as follows:
Huangsha (Liwan) à Xiti à Tianzi (Beijing Rd) à Generalissimo Sun Yat Sen's mansion à Sun Yat Sen University à Canton Tower
There are also various other ferry routes that you can use to explore the city.
5. Shopping Malls
There are several large western style shopping malls in Guangzhou. To experience the modern and wealthy side of Guangzhou take a trip to Tianhe for Grandview and Tee Malls.
Grandview Mall (正佳广场)
Address: 228 Tianhe Rd (next to Sheraton)
Metro: Metro 1, 3 Tianhe Sports Center Exit D3
Grandview Mall is the biggest mall in Guangzhou including a department store, luxury brands, Taste Supermarket and lots of restaurants. Don't miss the free aquarium on the 6th floor which has an impressive collection of fish including large sharks, turtles and stingrays.
Tee Mall (天河城)
Address: 208 Tianhe Rd (above Tiyu Xilu Metro)Metro: Tiyu Xilu
Within walking distance of Grandview Mall, Tee Mall similarly is a large shopping complex with luxury brands, AEON, a department store and restaurants.
Festival Walk
Metro: Tiyu Xilu
Hours: 10am - 10.30pm
Festival walk is a shopping arcade connected to Tiyu Xilu Metro station. This arcade is amazingly busy. Come here to get lost in the crowds and feel just how big and busy Guangzhou is. The shops here are in general more affordable than Tee Mall and Grandview Mall with a focus on local rather than international brands.
6. Hot Springs
Qingxing hot springs are located near Qingyuan city. Set in beautiful gardens, there are more pools than you can count, giving you a thoroughly relaxing experience. Relaxing hot springs might not be what comes to mind when you think about Guangzhou, but this complex rivals some of the best we have seen in Japan. And the best part is unlike in Japan, there is no naked bathing, so you can relax and enjoy the springs with you family and friends. Qingxing is most easily accessed by private car from either Guangzhou or Qingyuan. Qingyuan is on the high speed rail network, only 20 minutes by bullet train from Guangzhou.
8. Internet Access
If your favourite search engine is Google, or you are addicted to Facebook, don't be surprised when you come to China and find out that you cannot access these. However that shouldn't leave you thinking that the internet is so heavily censored in China that it isn't worth using, because that simply is not true. If you must use Google or Facebook, the only way around it is to install VPN on your computer BEFORE you arrive in China. Otherwise you will find that alternate search engines like Bing and Baidu work perfectly well in China, and yes, you can still access your Hotmail account!
7. Where to stay in Guangzhou
Guangzhou has hundreds of hotels, and most of them represent good value for money. Here a just a few that are special and worthy of mention.
Best Guangzhou hotel for culture
Holiday Inn Shifu
Address: No 188 Di Shi Fu Road, Liwan, Guangzhou
Located on the Shangxiajiu pedestrian street, you couldn't ask for a better location to immerse yourself in local culture. Within walking distance of Xingpin Market, Huangsha seafood market, two metro stations, shopping, gem markets and abundant superb restaurants, its a great hotel if you are on holiday. Rooms are clean and spacious. Good gym and pool on the rooftop. Our tip - skip the breakfast and go for yum cha at one of the neighbouring restaurants instead!
Best Guangzhou Family Hotel
Springdale Service Apartments Guangzhou
Address: Tower B1, No 105 Tiyuxi Road, Tianhe district
If you are travelling to Guangzhou with family on a budget then you cannot beat Springdale Serviced Apartments. The apartments are large, fully functional and clean. This is not a hotel and therefore lacks the luxury feel you get at a good hotel. However if you have reasonable expectations and need the space, you wont be disappointed. Breakfast is surprisingly good given this is only a mid range hotel. Location is excellent, very close to Tiyu Xilu Metro and within a short walk of Tee Mall and Grandview Mall. Tianhe is a good area for shopping, but not the place to stay if you want to experience culture.
Our tip - the small extra price for the executive rooms are well worth it. If the bed is too hard they can provide western style mattresses.
Best Luxury Guangzhou Hotel
Four Seasons Guangzhou
Address: 5 Zhujiang West Road, 510623 Pearl River New City, Tianhe District
Occupying the top floors of the Guangzhou IFC building (Levels 69 to 103), you cannot beat this hotel for amazing views and luxury. It has all the perks you would expect in a hotel of this standard and is located within walking distance of Zhujiang New Town Metro station and shopping centres.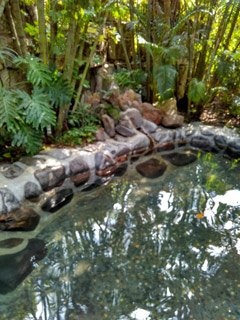 10. Moving to Guangzhou - Finding an Ayi
If you are a Guangzhou expat, or moving to Guangzhou one of the biggest hassles settling down is finding a reliable Ayi, especially given the high agency commissions payable. We recommend Ayicheng.com, a free classifieds where you can find an Ayi in Guangzhou.