Hong Kong Street Eats | The best Street Food in Hong Kong
Cantonese people love to eat, and Hong Kongs street food reflects that. With a mixture of traditional cantonese snacks and contemporary delicacies, the street food is so good that the Michelin guide for Hong Kong included a street food category since 2016. Whilst in the 1950s & 60s Hong Kong streets were studded with street food hawkers selling from carts, today you are more likely to find your favourite street food being sold from small shops and stands on street corners. Take yourself on your own eating adventure around Hong Kong sampling some of the snacks below, or join one of our Hong Kong food tours. Egg Waffles (Gai Daan Zai)Gai daan zai, or Egg Waffles are one of the most popular Hong Kong street snacks. Made from a batter of egg, wheat flour, evaporated milk, and sugar, these are a locals favourite. You'll encounter its sweet, tempting scent often as you wander the city streets.Besides the traditional flavour egg waffle, you can now find all sorts of modern variations including Pandan and Chocolate flavours, or served with ice cream, and even our favourite, peanut butter with condensed milk!Where to find Hong Kong Egg Waffles? It is easy to find gai daan zai in Hong Kong, but lots of it will be soft, soggy or not tasty. If you want to try one of the best versions in the city, head to Lei Kung Kee (492 Kings Rd., North Point), a hole-in-the-wall near North Point MTR. Expect long queues in the afternoon. Dao fu faDao fu fa is a popular snack in Hong Kong. Made from coagulated soybean milk—essentially very soft tofu—it can be eaten hot or cold and is normally served with a sweet sugar or ginger syrup. Sometimes it is also served with fruit or mixed with black sesame paste. Good-quality dao fu fa should be soft and silky-smooth.Where to try dao fu fa? The tofu at A1 Tofu Company (103 Kweilin St., Sham Shui Po, Kowloon, Hong Kong) is made from organic Canadian soybeans, and is known for having exceptionally great texture. Pig Intestines (Ja Zu Da Cheung)Pig Intestines. Doesn't the name just make you salivate? Probably not, but this is a popular street snack in Hong Kong. It is a labour intensive and time consuming process to prepare these intestines. First they need to be cleaned with salt and flour, boiled for an hour, coat with malt sugar and dry for 3 hours before putting them in the deep-fryer. You can hide the flavour with some mustard or hoisin sauce. The intestines themselves are a bit chewy, in some ways like squid. Just hope that your intestines were cleaned properly before being deep fried!You can find pig intestines at any of the street snack stalls that you find scattered around Hong Kong. Try Mongkok or Sham Shui Po for your culinary adventure. Curry Fish Balls (Ga Lei Yu Dan)Curry fish balls is one of the best known Hong Kong Street Foods, and can be found throughout the city. In Cantonese these are literally called "Fish Eggs", and are 5 – 7 small balls of minced fish mixed with flour and boiled in a spicy curry sauce. Served on a bamboo skewer, they are cheap, flavoursome and easy to find. These are so popular that you can even buy them at 7-eleven. If you are interested in trying Curry Fish Balls, this Hong Kong street snack that has been a staple over the generations is one of the tastings on our Kowloon Food Tour.Where to try it Hong Kong curry fish balls?The best is from Lam Kee hidden in Hung Hom Cha Kwun Lei. They have been around for many years and expect long queues during lunch and after school hours. Their old-styled traditional sauce made from oyster sauce, dark soy sauce, star anise and curry. HKD$7 for 6 fish balls. Stinky Tofu (Cau Dou Fu)Stinky tofu is fermented tofu that can be found as a street food in Hong Kong. This weird food has its origins in mainland China, but can also be found in Hong Kong and Taiwan. The Taiwanese are especially fond of this pungent food, serving more varieties than you can find in Hong Kong.The stink in the stinky tofu is from a fermented brine made from fermented milk, vegetables, meat and shrimp. Fresh tofu is immersed in the brine for a day or two to get its flavour. The smell of stinky tofu is quite overpowering. It reminds me of the open sewers in Africa. You will need to overcome your natural instinct not to eat food with a rotten smell to try this snack.In Hong Kong stinky tofu is normally deep fried and served with hoisin sauce. In the past, stinky tofu was sold in street carts in busy areas like Mong Kok. Nowadays, you can find them in these little street side snack food shops dotted around the city. Fried Squid (Ja Yao Yu)Who doesn't like some fried squid? The best fried squids are ones that are lightly battered, deep fried in oil over 180 degrees resulting in really crispy coating and crunchy squid inside. Kai Kei Snack (41 Dundas Street, Mong Kok) is a locals favourite for fried squid. Pineapple Buns (Bo Lo Bao)Pineapple buns are a sweet bun that is popular in Cantonese bakeries around the world. The pineapple buns actually contains no pineapple but got its name from the appearance of the sugary crust on top of the bun which has a pattern like pineapple skin.It may just be a simple bun, but it was listed by the Hong Kong Government as part of Hong Kong's intangible heritage in 2014.Traditional pineapple buns contain no filling, but common variations include a red bean paste filling, or even real pineapple.Many Hong Kong restaurants, such as , offer an item called a buttered pineapple bun, which is a pineapple bun with a piece of butter stuffed inside. They are known in Cantonese as bo lo yau (菠蘿油), which translates literally to pineapple oil.In our humble opinion though, the best pineapple buns are found across the border in Guangzhou. Try Bing Sheng for their famous oversized buns with a pineapple filling.In Hong Kong we recommend Kam Wah Restaurant (47 Buke Street, Mongkok), their famous hot Bo Lo Yau (HKD$10) will live up to your expectations. Crunchy crust, soft bun and butter that melts as soon as you put the bun into your month. Lo Po Bang (Wife Cakes)Lo Po Bang or Wives Cakes is one of the most popular traditional pastries in Hong Kong. Originating from Guangdong in mainland China. The paste is a sweet mash of wintermelon, sugar and glutinous rice flour. We like our Lo Po Bang to have a good amount of wintermelon inside, the paste should be smooth and the pastry soft and flaky.There is a beautiful legend behind the origins of Lo Po Bang. It is said to have been invented by a man living in a small village in China. His father was terminally ill, and the man and his wife had spent all their money on trying to find a treatment to save the father. In the ultimate self sacrifice, the wife sold herself into slavery to raise more money to save her father in law. After the husband learned of his wife's actions, he invented Lo Po Bang and sold enough to buy back his wife and save his father.You can find Lo Po Bang in most bakeries in Hong Kong, however the quality varies enormously and some to be honest are unpalatable.To try some great Lo Po Bang in Hong Kong, head out to Hang Heung Cake Shop in Yuen Long, 66 Castle Peak Road, Yuen Long, Hong Kong Lo Mai Chi (Glutinious Rice Balls)Lo Mai Chi are sweet glutinous rice ball. They sometimes have dried coconut on the outside and can be made from a variety of fillings including red bean paste, mango and durian. There are also more modern varieties with chocolate fillings.In Hong Kong you will find small speciality shops that sell freshly made Lo Mai Chi. The English name for these is often written as Nuomici, which Mandarin, not Cantonese.Lo Mai Chi are similar to Japanese Mochi, but the glutinous rice is softer and more sticky.Cheung Chau, one of the outlying island of Hong Kong is famous for Lo Mai Chi. Yong Xing Dessert place (3 Sun Hing Street, Cheung Chau) makes one of the best mango lo mai chi. Dragon Beard Candy (Long So Tong)Dragon beard candy is a traditional Chinese candy that you can find in Hong Kong. It is similar to fairy floss. The process of making the candy is often used by street sellers to attract customers, as the art of making it is in itself eye-catching. Dragon beard candy has a history of more than 2000 years in China. In the past, royal chefs in China would give a performance on how to make dragon beard candy in front of guests and serve them afterwards.Made primarily from maltose and sugar, after stretching the strands are rolled around peanuts, sesame seads, it has a stringy appearance with a rich sweet flavour and will melt on your tongue.The candy is best eaten freshly made and will quickly melt in warmer weather.Where to find Dragon Beard Candy?Dragon beard candy is not easy to find. You might be lucky to stumble upon it at a night market or festival. Otherwise there is a small shop in Sheung Wan near the MTR Exit B that sells it. Look for a Chinese sign with small writing that says "Super Bowl King Traditional Sweets and Desserts" Three Stuffed Treasures (Jin yeung saam bo)Three stuffed treasures is a street snack that has it's origins in Shunde in Guangdong. You may have actually tried variations of this street snack in dim sum restaurants without even knowing it. Traditional three stuffed treasures comprises bitter melon, long green chili and eggplant. Each is stuffed with fish paste. When you buy this from a street vendor in Hong Kong, there are actually more than 3 varieties to choose from with other options including stuffed tofu, stuffed mushrooms and even sausages, The vendor will stick a piece of each chosen variety on a bamboo skewer and deep fry them. Be wary of food safety if buying this on the street, as it may have been sitting out all day.To try three stuffed treasures, you need to go to a stall that makes them in the original way – deep fried in pork oil. Nowadays, people are very health conscious and will run away as soon as they hear the word "pork oil". Luckily, there is Dong Hing Snack Food in Stall A4, 43-59 Dai Tsuen Street, Tai Kok Tsui that makes their own pork oil, beat their own fish mince and the smell spreads throughout the whole street. Beef Offal Stew (ngao tsap)Slow cooked beef offal, boiled for hours in a master stock that may have been used for years. Fresh beef is also included in the soup. Our favourite part is the honeycomb tripe, but you will also find small intestines, large intestinese and lungs in this delicious delicacy. Try to find a vendor that includes some white radish, which will soak up the flavour of the soup.In the past is was possible to find this being sold be street vendors in Hong Kong, but with an ever reducing number of street vendors, you are likely going to have to go to a restaurant for this street food.Where to try beef offal stew?Sui Kee 2, Gutzlaff Street, Central, Hong KongThis famous beef offal and beef brisket stew place has been around for more than 60 years. It has been passed down to three generations but owner Li said his only son is not as tough as he is and simply not interested in spending up to 15 hours in the stall. So, enjoy it while you can! Wun Jai Ci – "shark fin" soupIn the 40's, around Temple Street Yau Ma Tei area, there were street sellers that gathered left over shark fins from restaurants and recooked them in a nice thick soup so that common people can also enjoy shark fins.Due to increased hygiene standards, vendors don't use leftovers anymore and they have replaced the shark fin with vermicelli. Cooked with black fungus, mushrooms, shredded chicken meat, cured ham, this tasty and filling soup is a great snack to have.Where to try imitation shark fin soup?Bon Bon Cafe92 Ivy Street, Tai Kok Tsui, Hong Kong Boot zai go – steamed glutinous rice pudding Originated from Tai Shan in Guangdong, it is made from brown sugar and glutinous rice flour, steamed in porcelain small bowls, often with red beans inside. In the past these were sometimes served by street vendors skewered on two bamboo sticks.Where to try boot zai go?Kwon Kee, 115-117 Fook Wah Street Sham Shui Po, Hong Kong​
The Ultimate Weird Food Guide to Hong Kong | 15 Weird Eats from the Eating Adventures team
The Eating Adventures team loves exploring Hong Kong to find the weirdest and tastiest food. Here is the our ultimate guide of 15 of the weirdest foods that you can find in Hong Kong. Turtle jelly, snake soup, chicken testicles, geoduck, horse sashimi and more!
List of Food Tours around the World
Where ever you are travelling to, food tours are one of the best ways to have fun and experience the local culture. Here is our ultimate list of food tours around the world. We have compiled an amazing directory of more than 250 TOURS! Take your pick and go and explore the world through food. Know a good food tour that we missed? Send us an Email. Happy Eating!!
Where to eat the best dim sum in Guangzhou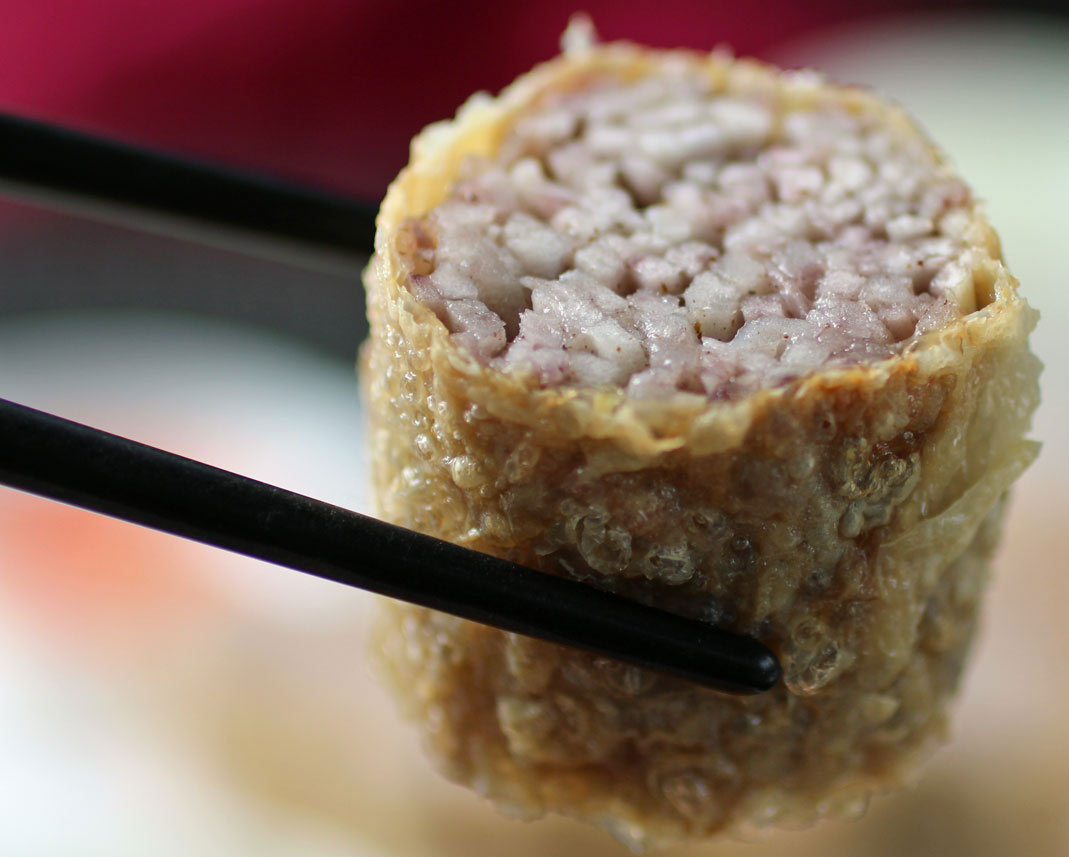 Where can you find the Best Dim Sum in Guangzhou? Well luckily if you are travelling to Guangzhou you will be spoilt for choice. We often say that even bad Dim Sum in Guangzhou is good Dim Sum in Hong Kong. The freshness and quality of the ingredients along with the traditional methods used to prepare Dim Sum are guaranteed to give you a mouth watering meal.
Going out for Dim Sum in Guangzhou is normally referred to as Yum Cha. Drinking good quality chinese tea while you enjoy your food is an essential part of the experience for many locals. Going out for Yum Cha in Guangzhou is a common weekend family activity, and you can expect long queues at popular restuarant.

Yum Cha is normally served from the early morning until just after lunch time. Most restaurants won't serve dim sum in the evening, although Dim Do Dak listed below is a notable exception.
You will find there is a larger variety of dim sum on offer in Guangzhou that you may be use to overseas, and there are even restaurants specialising in vegetarian dim sum. Some restaurants offer high quality teas served in different dinning rooms, referred to as Gong Fu Cha it is an experience not to be missed.
When eating Dim Sum in Guangzhou, you won't see food being pushed around in carts, all orders are made fresh. You won't find English menu's at these restaurants, and it is highly unlikely any of the staff will be able to speak a word. We suggest you check out what other tables are eating, and point out to the waitress what you want. Alternatively, for an in depth experience - contact us for one of our Guangzhou Food Tours.
The 5 best places to Eat Dim Sum in Guangzhou

Bei Yuan Restaurant
北园酒家
Address: 200-202 Xiao Bei Lu, Yuexiu district
越秀区小北路200-202号

Bei Yuan Restaurant is a garden restaurant located in Northern part of Guangzhou on the way to Baiyuan Mountains. It has over 70 years of history. The whole restaurant was built in traditional Guangdong styled buildings and landscaping, so not only can you sample some of the best dim sum in Guangzhou, you can also enjoy the peaceful surroundings. Some of the must-have dim sum include red rice paper roll and prawn dumplings.


Nan Yuan Restuarant
南园酒家
Address: 142 Qian Jin Lu, Haizhu district
海珠区前进路142号

Built in 1958, Nan Yuan Restaurant is restaurant specialises in Chaozhounese cuisine. It is one of the 12 restaurants that has been awarded a National rating of Platinum Five Diamonds. The restaurant was built over 10,000sqm piece of land, elaborately decorated with lakes, traditional chinese style bridges and pagodas. Its famous dishes include "Buddha jumps over the wall", Chao zhou loi sui goose and suckling pig. Expect very long queues on the weekend as it is a well known favourite restaurant for locals to eat Dim Sum in Guangzhou.


Qiu Da 6 Zai Ji
丘大6仔记
Address: 2nd Floor, 525 Binjiang Dong Lu, Haizhu district
海珠区滨江东路525号海琴湾商铺二楼

Started by Chef Qiu who has 30 years of dim sum experience under his belt including being the Head Dim Sum Chef of the famous White Swan Hotel and cooked for famous people like Deng Xiao Ping and Queen Elizabeth II. He opened his own dim sum restaurant in 2015 in an unpretentious location with the goal of creating innovative dim sum with traditional taste for the enjoyment of common local people. Think of something like Tim Ho Wan (only much much better!). Some of the dishes you will never find at other dim sum places like the shredded duck spring roll finished with a lemon sauce and black sesame, lamb shao mai with central asia spices and you can finish your meal with one of his outstanding desserts - Napoleon pastry or durian mousse cup.
This place is one of our favourites to eat Dim Sum in Guangzhou.

Dian Dou De
点都德
Address:
Main branch - 587 Long Jin Zhong Lu, Liwan district
Beijing Road branch - 470 Hui Fu Dong Lu, Yuexiu district
大茶楼- 荔湾区龙津中路587
聚福楼- 越秀区惠福东路470号

Dian dou de means "everything is possible". An all day yum cha restaurant, each one of them decorated in traditional Xi Guan style. Their kitchen pumps out up to 108 types of dim sums, with a mix of traditional and creative contemporary options. Since its opening in 2013 in Liwan, it has expanded to 12 branches, definitely achieving their goal of reviving the Yum Cha culture in Guangzhou, and is one of the best places to try Dim Sum in Gaungzhou. Their four colour ginseng soup prawn dumplings are divine. Other popular dishes include rice paper roll with deep fried dough and prawns inside, and durian desserts? The locals say "you always have to queue but you never leave disappointed".

Guangzhou restaurant
广州酒
Original branch - 2 Wen Chang Lu, Liwan district
总店- 荔湾区文昌南路2号

Started in 1935, Guangzhou Restaurant is referred as "The No.1 Place to Eat in Guangzhou". It has also been awarded as one of the top 10 restaurants in China. People say a good way to judge a dim sum restaurant is by the quality of their prawn dumplings and beef balls. They are both outstanding at Guangzhou Restaurant. If you feel like being a royal one day, you can also book in for their banquets where they replicate dishes served to the royals in the past.

If you are heading to Guangzhou, check out our Guangzhou Travel Guide for more insider tips, as well as our guide on the Best Ways to travel from Hong Kong to Guangzhou.

The Eating Adventures Blog